Read a bestseller everyday
Instead of binge watching, why not try binge reading? Sure, it sounds like more work than camping out in front of the ol' boob tube. But your attention span — not to mention the more literary muscles of your mind — will thank you.
That's why we're issuing a challenge: Stop downloading Netflix series to your phone to watch when you're bored at work, between classes, or at the bar with a particularly lame Tinder date. Always download a book to your phone, tablet or have a book in your bag instead. And if you need some ideas for which titles to bring along wherever you go — well, we've got some suggestions…

Aches by Carmen Von Achs
Risking everything, Alma travels to another dimension and becomes a hostage to get the essence of the originals that can restore her lover, Estrange, and prevent the chain of events that might follow.
Can Alma save Estrange?
Changing the present is risking her life to bring back his soul. If she succeeds, the man she loves—a vampire—could change the course of history and his race's destiny. Regardless of Alma's motives, does this secret organization working in the shadows, genetically modifying humans to hunt vampires, have the right to manipulate the entire world?
The story continues in Cursed – Book II.
Details
Digital eBook: 472 pages
Publication: March 21, 2012
Languages: English, French
Price: $2.04
Available: Paperback, eBook
Cursed by Carmen Von Achs
Their overwhelming attraction, magnetic and irresistible appears at their first meeting and culminates when Alma risk losing her life and Estrange also fast and noiseless as a feline sprung his arms around her transforming his body in a shield.
Alma has no time to react. Frozen, in spite of herself, fascinated by the captivating approach of man, she tries to resist the temptation to flee.
Estrange, in turn, is overwhelmed by a strange sensation: a wave of uncontrollable desire, mixed with intense thirst and previously unknown.
Because the man is one of those that mankind hates and hunts but she does not fear him!
When Alma understood that the man who saved her life on several occasions is a vampire will be too late because their love is too intense and there in no detour.
Details
Digital eBook: 352 pages
Publication: January 12, 2014
Languages: English, French
Price: $2.04
Available: Paperback, eBook
Foreword by Carmen Von Achs
It is said that some lives are connected through time by a strange radiance, until the fulfillment of their destiny.
Aches
Estrange Reality Series
Book I
by Carmen Von Achs
… A foreign organization infiltrated the French army, experiments on the human genome that will result in the creation of another race and that will transform his friend, Tyrone, a hunter pursuing him like all his race, because Estrange is not an ordinary human, but a mutant! A de novo mutation caused by a virus that had reverse transcribed its RNA genome into DNA. His ancestors had become …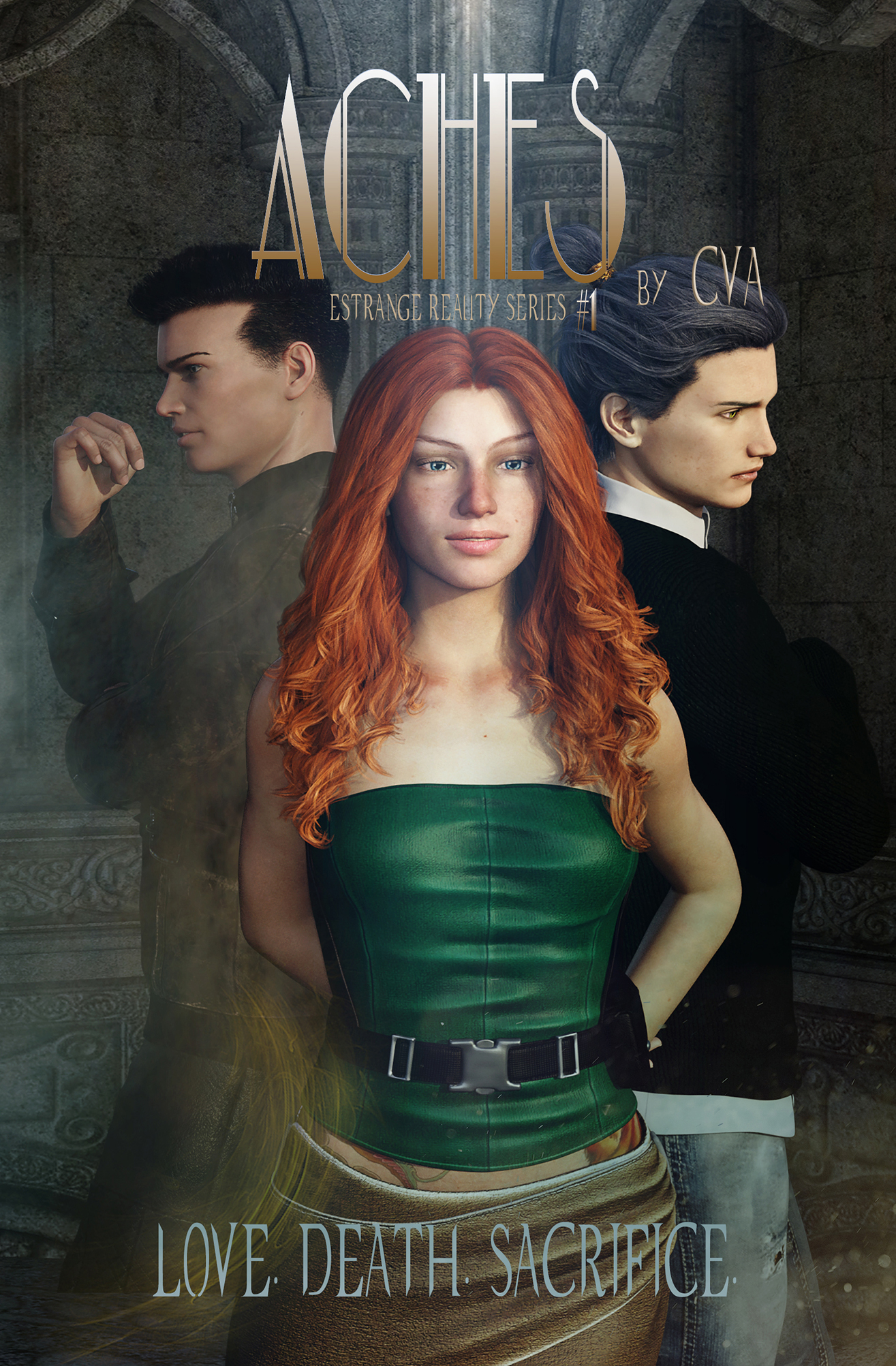 And there, more than one yard under water, I saw something clear, almost transparent, that moved with uncontrolled movements. I approached cautiously. There were two legs in the middle of a core full of algae and tree roots. Advancing quickly, I realized that a canoe had overturned and that someone was stuck underneath. I felt a wave of merry warmth fill my heart and I smiled.
I raised the canoe with one hand and I caught firmly a body. Barely had I raised it, when I heard a cry, and I almost lost hold of it. It was as if the current carried the person's legs to try to help save them, but numbed, they no longer responded. The lightness of the body surprised me. By increasing the pressure of my fingers, I succeeded in bringing it to the surface. It was a little girl about six years old.
The feelings I felt were overwhelming.
"I am dying, sir? Tell me." she asked.
I was so cold now – the fire had done its job in burning me – I could not feel much except her heat while I kept her above the waves.
Her hair was mixed with seaweed and her skin was pale after all this time spent in the water. She looked like a dead body that was talking. I swallowed with difficulty, and gently rubbed her back to warm her.